The NVIDIA GRID License Manager provides the necessary tools to monitor GRID license usage for capacity planning.
It can be installed on a physical server or in a dedicated Virtual Machine (VM). When a client VM with licensed features such as GRID Virtual Workstation or GRID Virtual PC is booted, it checks out a license from the license server. The license is returned when the VM shuts down.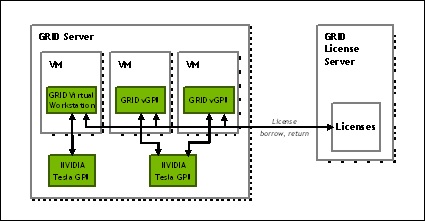 To improve end user experience, the GRID software will run with or without a valid license server connection. This is done to ensure that user experience is not impacted by license overages or connection issues. The license server will allow the IT administrator to track license usage and determine correct sizing for their environments. In compliance with the EULA, IT administrators may also use any other method that reliably tracks the software usage to ensure they have enough licenses for their CCU usage.
Useful Resources:
The license manager is packaged with the GRID software and can be downloaded along with necessary license files from NVIDIA licensing portal at below URL: Login
You can refer to the below Quick Start Guide for instructions on how to download and install GRID licenses: GRID Quickstart Guide.pdf
To learn about how to use usage monitoring functionality in the license manager you can refer to this Knowledge Base article: Monitoring Usage with License Manager
More information on how GRID licensing works is available here: GRID Licensing Guide
A detailed user guide with instructions on how to install and operate the license manager is available as part of the license manager download package.