Connecting a PC to an HDTV is a bit more complicated than connecting for example a DVD player or VCR. PCs offer many more video options and it can sometimes feel overwhelming. With this guide, we will show you the basics of connecting a PC featuring an NVIDIA based graphics card to an HDTV. HDTVs which have shipped over the past few years have included several types of video inputs including composite, SVIDEO, component, VGA and HDMI. For this guide, we will focus on connecting a graphics card to an HDMI port on your HDTV since newer HDTVs are shipping with additional HDMI ports while older legacy connections are going away.
Identifying the connections on your graphics card: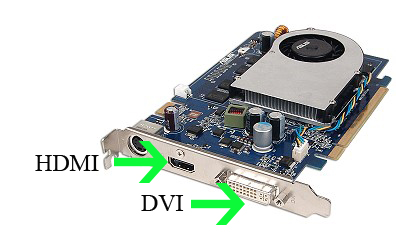 Mini HDMI Port on GeForce GTX 470 GPU
First of all, you need to identify which connections are available on your graphics card. The image above shows two connection types we can use to connect your PC to an HDMI port on a HDTV. If your graphics card has a native HDMI port, then you can use a standard HDMI male to HDMI male cable sold at any electronics store or online. Some models of the new GeForce 400 series GPUs include a mini HDMI port. Mini HDMI ports work just like standard HDMI ports, but may require a mini HDMI to HDMI cable. If however your graphics card does not have an HDMI port but does have a DVI port as pictured above, then you will need to use an HDMI to DVI cable.


Mini HDMI to HDMI cable
Please note: VGA to HDMI, Component to HDMI or any other type of analog video signal to a digital HDMI signal is not officially supported by the NVIDIA display drivers and therefore not recommended.
Once you are set on the cable you will use to connect your NVIDIA based graphics card to your HDTV, proceed to connect each end of the cable to your PC and the HDTV.
If you need to purchase cables for your NVIDIA GPU, please visit the NVIDIA Store and search for these compatible cables
Mini HDMI to HDMI cable

| | |
| --- | --- |
| Part Number | Cable Type |
| 030-0292-000 | Astron mini HDMI to HDMI Cable (6ft) |
| 320-0402-000 | Wieson DVI-I to HDMI converter |
| 030-0224-000 | BizLink DisplayPort to HDMI Converter |
HDMI Audio
Sending audio from your PC to your HDTV is not as straightforward as sending video. The method you select will likely depend on the graphics card model your PC has.
1) Passing audio directly from your analog onboard or add-in sound controller to your HDTV analog audio input. This method is fairly simple and involves using a 3.5mm to RCA stereo audio cable. The 3.5mm connection goes into your sound card while the other end goes to your HDTV's RCA input (some HDTVs may use a 3.5mm analog audio input instead of an RCA input in which case you would need a 3.5mm to 3.5mm cable instead). This method is recommended for NVIDIA GeForce FX, GeForce 6, GeForce 7 series or GeForce 8 series GPUs (i.e. GeForce 6600, GeForce 7900GT).

2)S/PDIF audio pass-through from your onboard or external sound card to an S/PDIF input on your graphics card which is sent along the HDMI cable. Some onboard or add-in sound cards, in addition to providing analog audio output, also feature a digital S/PDIF audio output. The advantage of S/PDIF over analog audio is that since it is a digital audio signal, the sound quality is much cleaner. S/PDIF also can carry compressed multi-channel audio such as Dolby Digital or DTS. If your graphics card is based on a GeForce 9 series, GeForce 100 series or GeForce 200 series (with exception of the GeForce G210, GeForce GT220 or GeForce GT240), it will likely have an internal two-pin S/PDIF input which can connect to your PC's internal S/PDIF output through a custom internal S/PDIF cable. If the graphics card receives a S/PDIF audio signal, the graphics card will pass the audio directly through the HDMI cable to your HDTV. For information on how to connect an S/PDIF cable from your sound controller to your graphics card, pleaseclick here

3) Finally, newer NVIDIA GPUs such as the GeForce G210, GeForce GT220 or GeForce GTX 480 have added an internal HD audio codec. This is like having an internal sound controller built right into the graphics card. The NVIDIA internal HD audio codec can only be used to output to an HDMI (or DisplayPort) display. It does not support analog audio. If you require analog audio (i.e. for headphones or PC speakers), you must continue to use your PC's sound controller. The NVIDIA internal HD audio codec is superior to analog audio or S/PDIF signal. While S/PDIF is limited to compressed 5.1 multi-channel, the NVIDIA HD audio codec can support additional audio channels and also support more advanced audio formats used with Blu-ray movies. If you have a graphics card with internal NVIDIA HD audio codec, simply plug the HDMI audio cable from your graphics card to your HDTV and it will carry both video and audio. No other internal or external cables are needed from your sound card for audio.
For more information on the audio codecs supports, please view the Knowledge Base Article Which HDMI audio formats do NVIDIA GPUs support?
Configuring the NVIDIA Display Properties
After you have connected your PC to your HDTV, you may power on your computer. While your computer boots into Windows, the NVIDIA graphics card will read the EDID of your HDTV to determine which HD modes are supported. This is handled in the background. The EDID information also provides information to the PC on which audio modes are supported by your HDTV. For the majority of HDTVs, they can be broken down into two categories, HDTVs which support an HD resolution up to 1080p and HDTVs which support an HD resolution of 1080i. Consult your HDTVs manual to determine which modes are supported by your HDTV. Configuring an HDTV which can go up to 1080p for the most part is a simple process. A 1080p signal has 1920x1080 pixels and is carried at a frequency of 60Hz (for an NTSC signal) or 50Hz (for PAL signal). The NVIDIA graphics card will read this information from your HDTV and configure your Windows desktop to 1920x1080 resolution at 60Hz automatically. You may notice a border around your Windows desktop is cut off and not visible. This is called overscan and has been around since the early days of televisions. Most HDTVs which can support a 1080p signal allowing you to turn off overscan so that you can view your entire desktop. Please consult your HDTV user manual for more information. In most cases, you can disable overscan by changing the aspect ratio setting on your HDTV.Please note that when using NVIDIA 3DTV Play software with an HDMI 1.4 3D TVs,the NVIDIA driver overscan compensationfeature does not work. As a result, the feature is disabled when you are using an HDMI 1.4 3D TV. However, many of the new 3D TVs have a built in option to fix the display size and allow the desktop to be seen.
Setting up an HDTV that can only go up to an HD mode of 1080i involves additional steps. If your HDTV is a 1080i display, it means that it is either a very old model which usually were not very PC friendly or is an HDTV which takes the 1080i signal and then down scales the signal to the native resolution of your HDTV. There are downsides to down scaling a higher resolution HD mode such as 1080i (1920x1080) into the native resolution of the HDTV (commonly 1366x768). It is like taking a large bag of potato chips and trying to squeeze it into a small sandwhich bag without breaking any of the chips. The result is that your desktop and in particular text will not appear as sharp. If you mainly use your HDTV to view movies and play games, this may not be a problem but if you wish to web browse or read your email, you may find this a problem. If you wish to use your HDTV as a PC monitor replacement to check email, browse the web, or other tasks which involve reading small text, you may be better off connecting your HDTV to your PC using a VGA cable from the VGA connector on your display. Most HDTVs feature a VGA connector. By connecting your HDTV to your PC using the VGA connector, you should be able to run your Windows desktop at the native resolution of your HDTV thus eliminating any down or up scaling.
The NVIDIA Control Panel allows you to optimize your 1080i display for use with your PC. To access the NVIDIA Control Panel, right-click on the Windows desktop. A context menu will appear. Select NVIDIA Control Panel.


This will bring up the NVIDIA Control Panel. On the left column, you will find the panel names which contain settings for your graphics card. Select the Change Resolution panel to show the HD mode your display is set to.
If your HDTV supports up to 1080i, your screen resolution will be set to 1080i, 1920x1080(native) automatically. If the objects on your screen appear too small, you may lower the screen resolution so objects appear bigger. As was previously mentioned for 1080p displays, you may have noticed a border around your desktop is cut off and not visible. This is also due to overscan from your display. You may resize your Windows Desktop using the NVIDIA Control Panel so that your entire desktop is visible. First, select Adjust Desktop Size and Position from the left column. Then select the Resize Desktop button from the right panel.


A new screen will pop up similar to the one below. Use the vertical and horizotal sliders to shrink the blue area so that the arrows touch the border of your screen. Once you have adjusted the screen, press the OK button.
This will bring you back to the NVIDIA setting in the Change Resolution panel with a new custom resolution having been added to the list of resolutions. This new resolution is a virtual screen resolution. Your HDTV will still receive a full 1080i signal, however, it will include an invisible black border which you do not see to compensate for your HDTV's overscanning. Please make a note of this new custom screen resolution. When you play a video game, you will need to select this custom resolution inside of the game video settings to avoid getting part of your video games display from being cut off from your HDTVs overscanning.
Note these settings are for configuring a standard HDTV. If you own a 3D TV, please view Knowledge Base Article"How do I setup my NVIDIA based graphics card to work with my 3D TV."
Configuring your audio
Setting up your audio will vary depending on which audio connection you selected. For analog audio connections coming directly from your sound card, any settings must be configured from your sound controller's audio settings.
If you chose to pass S/PDIF digital audio through the NVIDIA graphics card, you will need to select the S/PDIF output as your default audio playback device. Otherwise, Windows will likely continue sending audio through the analog connections on your sound card. Right-click over the speaker icon on the bottom right hand corner of your Windows taskbar. Select "Playback Devices".
This will bring up the Sound panel. In this example, you will notice there is an option for "Digital Audio (S/PDIF)" and "Digital Audio (HDMI)". The "Digital Audio (S/PDIF) enables the external S/PDIF connector on your motherboard (used to connect your PC to an audio receiver). The other setting "Digital Audio (HDMI)" sends the audio from the internal S/PDIF connector to your graphics card. In this example, you would select "Digital Audio (HDMI)" and then press the "Set Default" button to make this your Windows default audio device. The sound options will vary depending on which sound controller your PC is using.
If you are using an NVIDIA graphics card with a built in NVIDIA HD audio codec, you will see "NVIDIA High Definition Audio" in the list of playback devices in the Sound properties. If no other audio devices are connected to your PC (i.e. headphones, PC speakers), the "NVIDIA High Definition Audio" will be assigned as the default playback device by Microsoft Windows. If not, select the "NVIDIA High Definition Audio" device and then press the "Set Default" button to apply this change.
Once you have configured both your video and audio signals, you are finished. If you experience problems, please check for the following:
1) Poor cables can distort the integrity of your audio and video signal. If you do not get a display or your display is not detected, try swapping video cables. NVIDIA recommends using cables that are no longer than 12ft in length.

2) For the latest options mentioned in this article, make sure your NVIDIA display drivers are up to date. Older drivers may not feature some of these options. You may download the latest NVIDIA display drivers from our Software Downloads page here

3) For information on connecting an HDTV using component video cables, consult the NVIDIA Control Panel Users Guide which is found in the Additional Information section of the display driver download page as shown in the image below:

4) If there is a device in between your HDTV and your PC such as an audio receiver, HDMI switch or KVM, it may be blocking your HDTVs EDID information from being passed on to your PC and therefore the PC will not be able to synchronize properly.